Trigger
Set It Off
---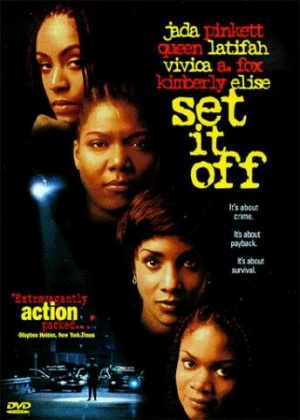 Director:

F. Gary Gray

Stars:

Jada Pinkett Smith , Queen Latifah , Vivica A. Fox , Kimberly Elise , John C. McGinley

Date:

1996

Rate:

0.0

Content:

Desperation drives four inner-city women (Queen Latifah, Jada Pinkett Smith, Vivica A. Fox, Kimberly Elise) to bank robbery in Los Angeles, then they start mistrusting one another.
i would always hear about this movie ALL the time
Love this movie this * is crazy best movie
Champayne

Fri Nov 15, 2013 8:41 am
i watched this movie when it first came out and seventeen years later i'm still watching it i have never forgotten it. best movie ever and i have seen a lot
brandy101

Wed Oct 30, 2013 8:13 pm
it made my cry ! i never cry on movies. i guess it made me cry because i can understand what they were going through coming from the hood.
makiyyah

Tue Oct 22, 2013 6:40 pm
THIS MOVIE MADE ME CRY. BEST MOVIE IVE EVER seen.
tornado

Fri Apr 05, 2013 2:37 am
qiqi

Tue Feb 05, 2013 2:36 pm
great movie! instant classic!
jjrods1

Sat Jan 26, 2013 9:40 am
This is the hood movie of them all
tobias

Mon Nov 26, 2012 4:41 pm
search