Trigger
We Are What We Are
---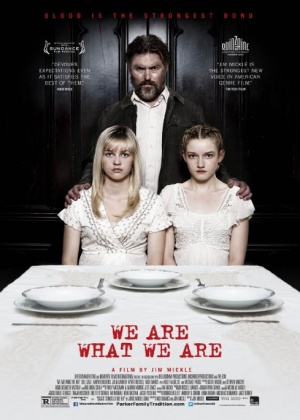 Director:

Jim Mickle

Stars:

Kassie Wesley DePaiva , Laurent Rejto , Julia Garner , Ambyr Childers , Jack Gore

Date:

2013

Rate:

0.0

Content:

The Parkers, a reclusive family who follow ancient customs, find their secret existence threatened as a torrential downpour moves into their area, forcing daughters Iris and Rose to assume responsibilities beyond those of a typical family.
gcurrie

Thu Jan 09, 2014 9:57 am
if you get bored at least fast forward to the end
ohyeahohyeah23

Fri Dec 06, 2013 9:50 pm
This is the strangest movie I think I have ever seen. I enjoyed the story line but the ending completely freaked me out. So strange but yet, so good.
Allaaay

Fri Oct 25, 2013 7:01 pm
Jennacarpenter

Fri Oct 25, 2013 6:28 pm
search