Trigger
Man on Fire
---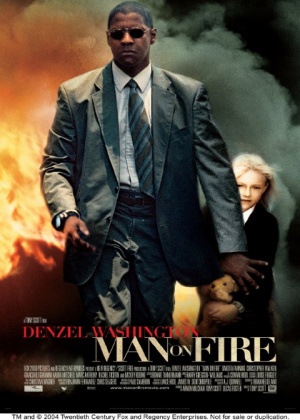 Director:

Tony Scott

Stars:

Denzel Washington , Dakota Fanning , Radha Mitchell , Christopher Walken , Marc Anthony

Date:

2004

Rate:

0.0

Content:

In Mexico City, a former assassin swears vengeance on those who committed an unspeakable act against the family he was hired to protect.
hekes088

Sun Jan 10, 2016 6:24 am
Denzel Washington should have gotten an emmy.oscar based off of this performence not training day.
Sephiroth_409

Mon Oct 14, 2013 6:07 pm
Hard-core violence, but good acting/directing/plot/script
aero-swag

Thu Apr 26, 2012 3:15 pm
Very touching film in many ways. I find it original and very enjoyable and believe everyone should watch this at least once. If your browsing got a decent action flick with a great story this is it. So give it a try and I promise you will enjoy every minute of it.
inyourface6336

Sat Apr 07, 2012 3:28 pm
Lukas

Sat Feb 25, 2012 1:29 pm
Man on Fire (2004) Current rating: 10./10 (4 votes)
tv_links-cc

Mon Feb 20, 2012 6:43 pm
Step Up 2: The Streets (2008)The Simpsons Movie (2007)Ghost Rider (2007)Baby Mama (2008)Jack and Jill (2011)Sex Drive (2008)American Pie Presents Beta House (2007)You Dont Mess With
tv_links-cc

Mon Feb 20, 2012 6:42 pm
mexicon1234

Sat Feb 11, 2012 1:45 pm
moe0@live.com

Sat Feb 11, 2012 7:02 am
awsome movie 1 out 0f 10 i give it a 10.
angel14

Mon Feb 06, 2012 9:48 pm
search