Trigger
Amadeus
---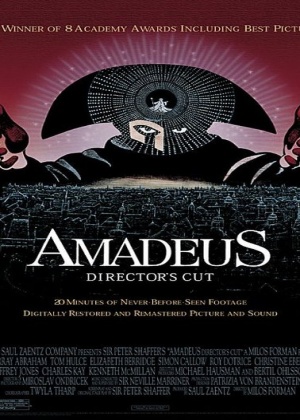 Director:

Milos Forman

Stars:

F. Murray Abraham , Tom Hulce , Elizabeth Berridge , Roy Dotrice , Simon Callow

Date:

1984

Rate:

0.0

Content:

The incredible story of Wolfgang Amadeus Mozart, told by his peer and secret rival Antonio Salieri - now confined to an insane asylum.
mmmmmmmmmmmmmmmmmmmmmmmmmmmmmmmmmmmmmmmmmmmmmmmmmmmmmmmmmmmmmmmmmmmmmmmmmmmmmmmmmmmmmmmmmmmmmmmmmmmmmmmmmmmmmmmmmmmmmmmmmmmmmmmmmmmmmmmmmmmmmmmmmmmmmmmmmmmmmmmmmmmmmmmmmmmmmmmmmmmmmmmmmmmmmmmmmmmmmmmmmmmmmmmmmmmmmmmmmmmmmmmmmm
rootintootin

Tue Nov 09, 2021 8:30 pm
A must-see movie from my youth! Love it, period piece with bite, unexpected humor, and good tunes. ;) Definitely not a dusty old history lesson, anyway.
papabear

Sun Jan 24, 2016 9:07 am
search