Trigger
The Pyramid
---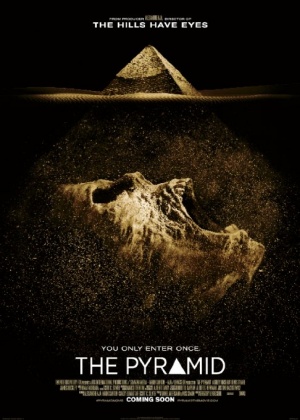 Director:

Grégory Levasseur

Stars:

Ashley Grace , Denis O'Hare , James Buckley , Christa Nicola , Amir K

Date:

2014

Rate:

0.0

Content:

An archaeological team attempts to unlock the secrets of a lost pyramid only to find themselves hunted by an insidious creature.
Dreadful! I couldn't watch the last half.
dianacarolyn

Wed Mar 25, 2015 8:10 pm
Expected CGI to be better. pretty stupid dialogue. SEE, all Scary B movies, yada, yada, yada.
trishacrn1

Wed Mar 18, 2015 7:27 pm
Good movie worth watching
Obdulio

Tue Mar 17, 2015 2:19 pm
This is the most stupid movie I've watched in this last batch offered to us. Really intense dialogue, five people in a tunnel, "Stay close I don't want to lose anybody." Nora, look at her face...We don't know what is up there." Please, if you start watching this, fast forward to the end and call it a day.
mcahak

Tue Mar 17, 2015 9:59 am
Was ok, something to keep me occupied while im bed bound
vicky11

Tue Mar 17, 2015 9:51 am
reasonable although it did lose it near the end a bit
jonsherman

Tue Mar 17, 2015 8:18 am
kaajalk

Mon Mar 16, 2015 1:09 pm
search