Trigger
Before We Go
---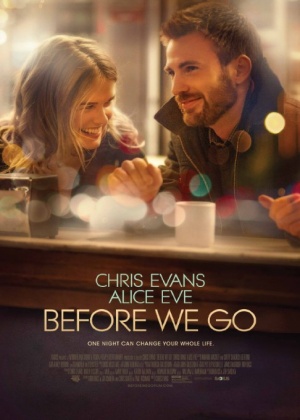 Director:

Chris Evans

Stars:

Chris Evans , Alice Eve , Emma Fitzpatrick , Scott Evans , John Cullum

Date:

2015

Rate:

0.0

Content:

Two strangers stuck in Manhattan for the night grow into each other's most trusted confidants when an evening of unexpected adventure forces them to confront their fears and take control of their lives.
What started off as something cheesy, soon turned into a very sweet film
Banksey86

Sun Jun 12, 2016 9:49 pm
What's with the ending???? Good movie
Fatsabs

Mon Aug 03, 2015 6:48 am
The Ending...whyyyyyyyyyyy????
1514slj

Sat Aug 01, 2015 8:01 pm
raggedyann

Thu Jul 30, 2015 9:38 pm
Great movie. Really enjoyed it!
kamath72

Thu Jul 30, 2015 7:14 pm
ericahatten

Thu Jul 30, 2015 5:05 pm
Khaliqra

Thu Jul 30, 2015 2:20 pm
search