Trigger
Final Girl
---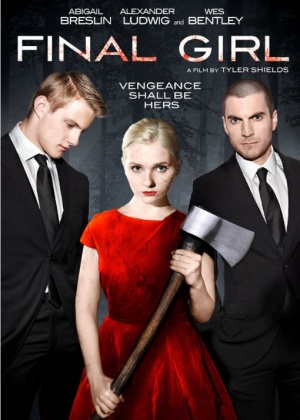 Director:

Tyler Shields

Stars:

Abigail Breslin , Wes Bentley , Logan Huffman , Cameron Bright , Alexander Ludwig

Date:

2015

Rate:

0.0

Content:

A man teaches a young woman how to become a complete weapon. Later she is approached by a group of sadistic teens who kill blonde women for unknown reasons. The hunting season begins.
Enchante

Sun Sep 06, 2015 4:53 pm
This a ridiculous low budget movie. What a waste of time!!
dianacarolyn

Wed Aug 12, 2015 2:27 am
chillpill79

Sun Jul 26, 2015 9:15 pm
malira

Sat Jul 25, 2015 3:15 pm
Good movie. Worth watching, in spite of the plot holes.
georgekatsoulis

Fri Jul 24, 2015 9:20 pm
Kinda slow moving but completely gripping at the same time.
raggedyann

Thu Jul 23, 2015 4:29 pm
kwalka02

Wed Jul 22, 2015 7:30 pm
I too think this is a pretty interesting movie..Not any glitz and glammer. Just a straight forward story. Kept my interest. At first I was tempted to close it out but glad I didn't.
mcahak

Wed Jul 22, 2015 4:39 pm
Wow - interesting 1950s killer chick without modern weapons, cgi, martial arts, and minimal plot line - kind of movie. Fast forwarding helps. :)
Jettal14

Wed Jul 22, 2015 6:23 am
search