Trigger
Vampire Academy
---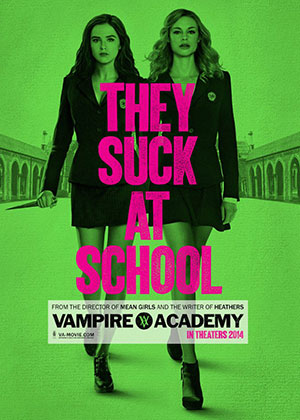 Director:

Mark Waters

Stars:

Zoey Deutch , Lucy Fry , Danila Kozlovsky , Gabriel Byrne , Dominic Sherwood

Date:

2014

Rate:

0.0

Content:

Rose Hathaway is a Dhampir, half human-half vampire, a guardian of the Moroi, peaceful, mortal vampires living discreetly within our world. Her calling is to protect the Moroi from bloodthirsty, immortal Vampires, the Strigoi.
I watched this with my 14 year old daughter. We both really enjoyed it. It is a very cute movie. It is runny and dramatic all at the same time. I would def recommend it to my friends to watch with their daughters.
jenajaca

Sun Jul 13, 2014 4:40 pm
Yes I watched this - don't tell my grandchildren! :)
Jettal14

Tue May 06, 2014 2:04 pm
Should appeal to "Team Edward" Twilighters. Not too bad, but definitely aimed at Tweeners. I see a new franchise coming.
Badger

Sat May 03, 2014 7:29 pm
search