Trigger
The Watch
---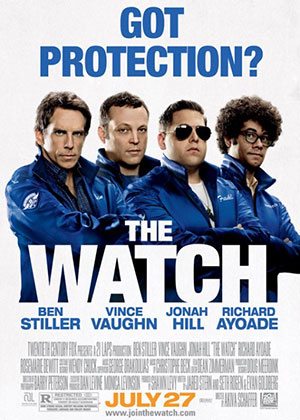 Director:

Akiva Schaffer

Stars:

Ben Stiller , Vince Vaughn , Jonah Hill , Richard Ayoade , Rosemarie DeWitt

Date:

2012

Rate:

0.0

Content:

Four men who form a neighborhood watch group as a way to get out of their day-to-day family routines find themselves defending the Earth from an alien invasion.
OK, it should have been funnier with this cast.
gcurrie

Thu Jan 09, 2014 5:02 pm
uh...in sync. Love this goofy sci-fi comedy.
johnkern

Sun Sep 15, 2013 3:05 am
Funny as! Havn't laughed so hard at a film for ages. Epic!
Russell1969

Thu Nov 08, 2012 4:18 pm
really badly out of sync, please fix this
bambam

Sun Nov 04, 2012 3:33 pm
really badly out of sink hope it gets fixed
stuart87

Sun Nov 04, 2012 1:16 pm
search