Trigger
Camp Rock
---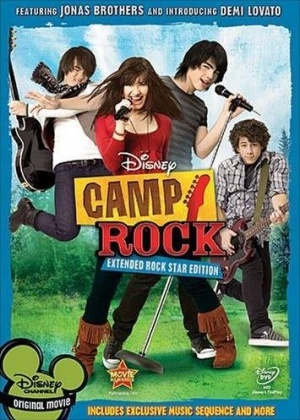 Director:

Matthew Diamond

Stars:

Demi Lovato , Joe Jonas , Meaghan Martin , Maria Canals-Barrera , Alyson Stoner

Date:

2008

Rate:

0.0

Content:

At a music camp for gifted teens, a popular teen idol overhears a girl singing and sets out to find who the talented voice belongs to. What he doesn't know is that the girl is actually a camp kitchen worker with a fear of being heard.
12661470

Mon Apr 14, 2014 7:07 am
rarespark326

Tue Mar 25, 2014 3:25 pm
Shenry.53

Sat Jan 25, 2014 4:56 pm
Annan1212

Fri Jan 03, 2014 9:39 pm
lesaaken

Thu Dec 26, 2013 7:35 am
jeannetta

Sat Nov 16, 2013 9:08 am
angela.k2403

Sun Oct 13, 2013 6:45 am
Don't watch this! Lame! I mean its on the verge of great, but it doesn't quite make it. The numbers are all trying just a little too hard. Trying to be the next high school musical. But that ship has sailed!
antonettepettit

Wed Apr 10, 2013 5:46 pm
angel cutie you are ture i made a mistake know that i saw all of it
jiji52

Wed Mar 13, 2013 5:33 pm
jiji52

Tue Feb 19, 2013 7:25 pm
falconpunch33

Thu Sep 20, 2012 9:14 pm
This movie is a good movie but its nothing to get hipe over.
AngelCutie

Mon Jul 16, 2012 6:33 pm
search