Trigger
Split
---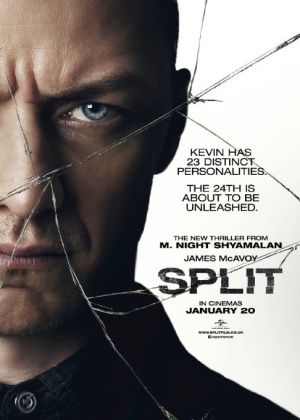 Director:

M. Night Shyamalan

Stars:

James McAvoy, Anya Taylor-Joy, Betty Buckley, Haley Lu Richardson

Date:

2016

Rate:

7.4

Content:

Three girls are kidnapped by a man with a diagnosed 23 distinct personalities, they must try to escape before the apparent emergence of a frightful new 24th.
This was an awesome movie. Can't wait for part 2 to come out. You'll love Miss Patricia, she's funny as hell! He better win an award for this role! Nailed it with the MPD.
missjenn35

Thu May 04, 2017 7:29 am
What a twist!?!?!?!?!?!?!?!?!?!?!?
colpeskin

Sat Apr 29, 2017 6:50 pm
Pity - working now.ADMIN doesnt read comments, so be sure to message them when there's a problem.Also : With newer listings, Always try refreshing both the home page and then page you select.
adeba

Tue Apr 25, 2017 8:02 am
search