Trigger
The Thing
---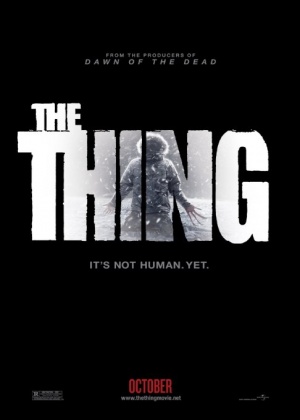 Director:

Matthijs van Heijningen Jr.

Stars:

Mary Elizabeth Winstead , Joel Edgerton , Ulrich Thomsen , Eric Christian Olsen , Adewale Akinnuoye-Agbaje

Date:

2011

Rate:

0.0

Content:

At an Antarctica research site, the discovery of an alien craft leads to a confrontation between graduate student Kate Lloyd and scientist Dr. Sander Halvorson.
this movie is back story!!! be4 the wolf turn everybody into aliens
Ashel

Sat Dec 07, 2013 6:32 am
this is pre Kurt Russell movie this happen before American team run into alien life form
jstubbs1978

Fri Aug 16, 2013 5:21 am
This movie * ed...a remake is supposed to be better, not worse. The storyline wasn't the same, and the graphics * ed too!
umm wack... this movie actually came out in the early 80's and had GOOD actors.. Hey Gen z or all you 90's babies. quit ruining movies with lame remakes. For real!
MikeJeezee

Mon Dec 17, 2012 9:18 pm
search